Australian Foreign Minister Penny Wong has joined her American and Japanese counterparts to lash China for firing five missiles into the ocean in Japan's economic zone, hours after China halted all dialogue with the United States on major issues including climate change and military relations.
In a sign that US House Speaker Nancy Pelosi's visit to Taiwan will continue to reverberate long after she has left, Beijing announced it was ending all dialogue between senior-level military commanders and talks on climate change action.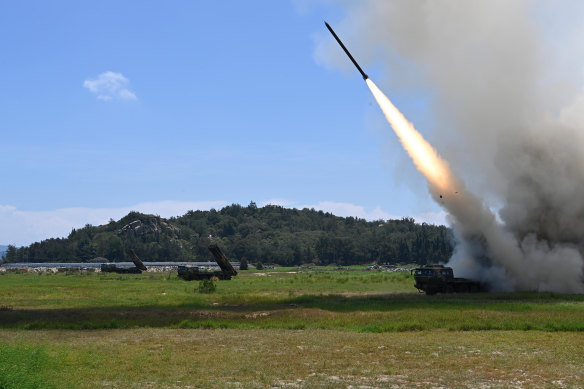 It followed China firing five missiles over Taiwan which landed in the ocean in Japan's economic zone, bringing Tokyo directly into the dispute.
Taiwan's defence ministry said on Saturday morning multiple Chinese ships and planes conducted missions in the Taiwan Strait, with some crossing that divides the democratically governed island from its superpower neighbour.
Taiwan's army broadcast a warning and deployed air reconnaissance patrol forces and ships to monitor while putting shore-based missiles on standby.

After Wong met with US Secretary of State Antony Blinken and Japanese Foreign Minister Hayashi Yoshimasa in Cambodia, the three issued a joint statement urging all parties to "avoid the risks of miscalculation".
"Things are getting much riskier in South China Sea and Taiwan, and if you don't have some sort of military dialogue that's a big problem."

Richard McGregor, Lowy Institute senior fellow
Wong, Blinken and Hayashi said China's recent actions "gravely affect international peace and stability, including the use of large-scale military exercises".
They condemned Beijing's "launch of ballistic missiles, five of which the Japanese government reported landed in its exclusive economic zones, raising tension and destabilising the region" and urged it to "immediately cease the military exercises" over the Taiwan Strait.